How Should You Plan Your Taiwan Itinerary 7 Days 6 Nights (Part 3)
Now that you have spent 3D2N in Taichung, it is time to explore Nantou! If you have missed our Day 2 of this itinerary, read it here! Your adventure to Nantou normally starts at around 9 am depending on your last night in Taichung. Normally you will have a lot of late night shopping at Feng Jia Night Market during your last night. So let's start the 3rd day of your Taiwan Itinerary!
Day 3 (Nantou)
You will be visiting the 2016 latest tourist attraction in Nantou, 桃太郎村 – Táo Tài Láng Cūn (Momotaro Village).  It is village that was previously used as a movie filming studio in Taiwan and now it was reconstructed to an interesting tourist attraction. I am sure you have heard of 桃太郎, a very popular Japanese children's story character. This is the chance for you to understand more about him. If you are visiting Ji Ji Train Station or Monster Village, you must drop by here.
What You can do at 桃太郎村, Momotaro Village?
1 – Take photo with the cute mascot here
Source: https://images.viablog.tw/201602/3-18.jpg
2 – Take a nice stroll and appreciate the cute and amazing buildings here. You will feel like you are in ancient japan.
Photo Source: http://yhliao915.pixnet.net/blog/post/62517968-%5B南投竹山桃太郎村%5D台灣影城重溫民國初年@結
3 – Remember to get some interesting souvenirs back home. They have very traditional Taiwan snacks here too.
Image source: http://mypaper.pchome.com.tw/mikey2004/post/1364149523
After a fun morning with your childhood friend, Tao Tai Lang, it is time to visit a very unique and popular temple. Have you heard of a temple that will lend you money to do business? 紫南宫 (Jhushan Zi Nan Temple) is the one and it has many successful business stories here! Zi Nan Temple is a Temple of the Earth (土地公廟) that is more than 300 years old. One of the key reason why this temple has become so popular is its practice of giving out Lucky Money to individuals. According to the locals, if you use the money to invest, your chances of successful investment is very high.  Once you earned money from the lucky money, you are supposed to "return the money" in the following year. There are also many stories of people becoming rich after their visit here!
According to the culture, you must go through some processes before you are allowed to get the Lucky Money from the temple. 1st borrow will be NT 600, 2nd time will be NT 500 and so on. But when you invest successfully, you are supposed to return the full amount to the temple and donate some money to the temple. Therefore, it has become is a must visit place for people whom own businesses. Due to its popularity here, you must be ready to stay patient and queue up 🙂 Take note that the most busiest period of the temple is 2nd day of Lunar 2nd Month. If you choose to visit on this day, be prepared that the temple will be very packed with people.
What You can do at 紫南宫, Jhushan Zi Nan Temple?
1 – Pray sincerely here. Many people became rich after using the money borrowed here for business. If you are doing your own business, you must visit here.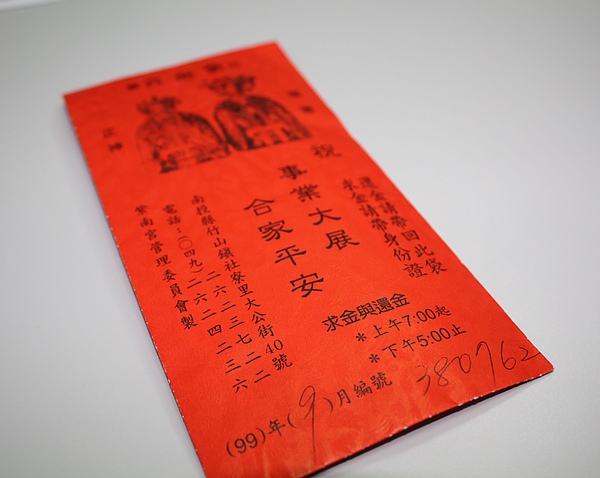 Image from http://jennyyangpc.pixnet.net/blog/post/19272557-生活點滴│紫南宮
2 – Collect lucky coins when they have events! Hope that you will visit it when they have such events!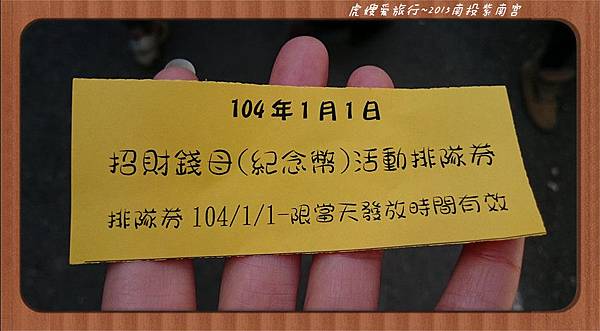 Image from http://wu840531wu890515.pixnet.net/blog/post/404326483-【南投景點】竹山紫南宮❤羊年銀色紀念幣%26
3 – Tip: Be ready to wait and queue if you visit it during peak season such as Chinese New Year!
Image from http://blog.xuite.net/shuting1114/diary/62668104-南投%E2%80%A7竹山紫南宮
4 – Fun Fact: Their toilet is a 7 star toilet. You will not believe that this is a temple toilet. It is behind their information counter.
Image from http://blog.xuite.net/stuart_lin/nbxtour/33358482-%5B南投+景點%5D+借錢發大財%E3%80%82竹山紫南宮
5 – Travel Tip: Beware of people telling you that you can only enjoy free car park if you pay NT200 for the praying materials. Just drive a bit deeper and you can enjoy the free car park!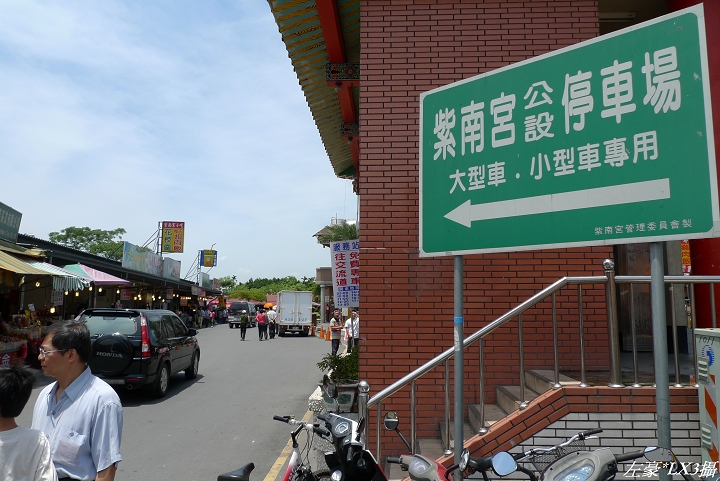 Image from http://permio1.pixnet.net/blog/post/242047184-%5B旅遊%5D-求財金-南投紫南宮
Now you are blessed with good luck. It is time to visit some of the most popular attractions in Nantou! JiJi Train Station (集集火车站) was built during Japanese Colonial Era, 1922. It is one of the oldest train station that is still in used. In the past, it was used for transporting materials for new power plant but unfortunately, during 921 earthquake, it was severely damaged. Fortunately, it was reconstructed and resumed its operation after getting donation and fund raising from the public. Now it has become one of the top 10 tourist attractions in Nantou.
JiJi train station is situated at the country side and over here, you will see the design of a traditional train station that is built mainly using timber. At the same time, you will enjoy a lot of local food and souvenirs shopping. This is probably why it is very popular, especially with young couples and young families. Moreover, it's surrounding scenery is very beautiful. You can also take the local train to places like Che Cheng and it will only takes around 15 mins. The train has different decorated theme in each cabin. Therefore if you have kids, they will love the rides here
What You can do at JiJi Train Station, 集集火车站?
1 – Fun Fact: Do you know it was built during the Japanese Colonial Era?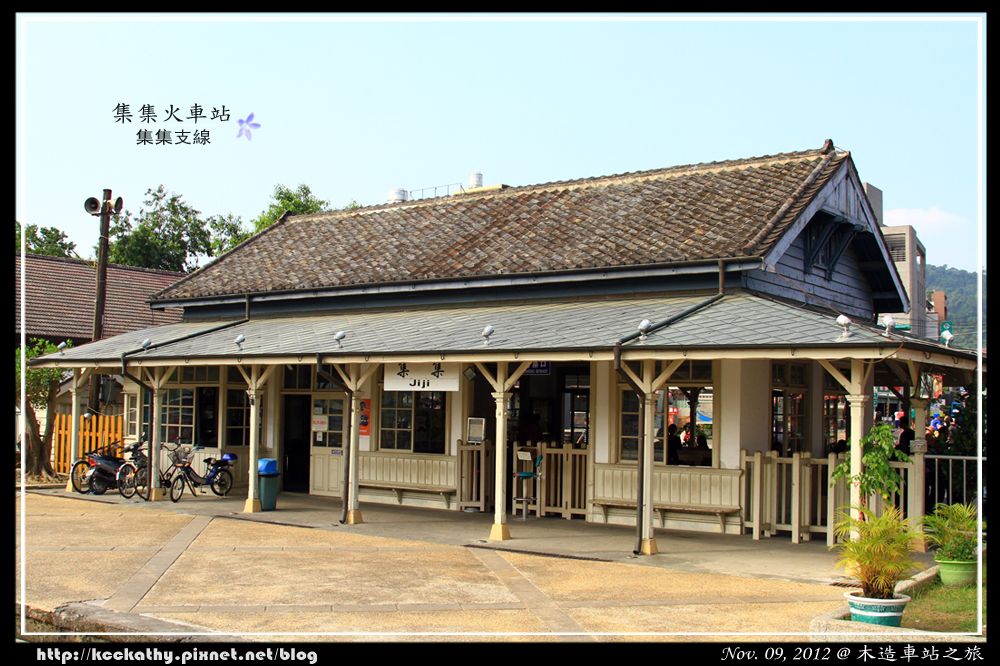 Image from http://kcckathy.pixnet.net/blog
2 – Along the tracks, there is nice scenery for you to take photos.
Image from http://happyday760626.pixnet.net/blog
3 – Outside and adjacent to it, you can visit many stalls to buy local products.
Image from http://www.liviatravel.com/2014/03/nantou-jiji.html
4 – Take the train to Che Cheng. Remember to take many photos in the train. It is well decorated.
Image from http://yingoyingo.pixnet.net/blog/archives/201308
Next, we will head to the place to shock ourselves with the strength of our Mother Nature. I believe you have heard of Taiwan 921 earthquake. But can you image how devastating the earthquake is? 1:47AM on September 21, 1999, is a nightmare for Taiwan. Taiwan was struck by a 7.3 magnitude earthquake. This is the worst natural disaster of the past century in Taiwan. In the wake of the 921 disaster, the government decided to preserve some of the damages at 921 地震博物馆 (921 Earthquake Museum of Taiwan) to serve as a reminders for the public. The idea was to remind everyone the need to prepare for such disaster.
Over here, you will be able to see the real damaged done by the 921 earthquake and you can even experience a simulated earthquake here. Seeing and experiencing is not enough here. There are a lot of learning that you can learn here too. There are many learning games available for you to play around. For example, you will be to learn some great ideas of anti earthquake building structures.
What You can do at 921 地震博物馆, 921 Earthquake Museum of Taiwan?
1 – You must visit their 3D Cinema here! It is very educational!
Image from http://www.921emt.edu.tw/
2 – You will see and understand how devastating 921 Earthquake was when you are visiting here.
Image from http://lovetravelingtaiwan.blogspot.sg/2012/07/Taichung-half-day-trip-at-921.html
3 – Learn about interesting topic about earthquake. For example, how to place an objects in a proper way to avoid damage during a strong earthquake.
Image From http://lovetravelingtaiwan.blogspot.sg/2012/07/Taichung-half-day-trip-at-921.html
Then you will be going to your key highlight of the day, 日月潭, Sun Moon Lake! Sun Moon Lake is the home of the Thao Tribe, one of the aboriginal tribes of Taiwan. It is also the largest body of water in Taiwan. This lake is named so because the its west side resembles a moon and its east side resembles a sun. You can enjoy both sunrise and sunset along here because the view is simply breathtaking. Cycling is also one of the popular activities here. The view here is so beautiful that it is a famous pre-wedding photo shoot location. One trademark is its 3 mountain peaks. So, you should include the 3 peaks in your photo to make it complete.
One interesting thing about Sun Moon Lake is that, it has eight scenic seasons here. To know more, you must read up here.
What You can do at 日月潭, Sun Moon Lake?
1 – You can take the Sun Moon Lake Cable Car to enjoy a bird's eye view! After that, you can visit 九族文化村 (Formosan Aboriginal Culture Village)
2 – Photo Tip: Your photo backdrop should have the 3 mountain peaks. This is the trademark of Sun Moon Lake.
Photo from https://irisjourney.wordpress.com/category/sun-moon-lake-2/
3 – Take the boat tour. You will be able to visit most of the key attractions around Sun Moon Lake
4 – Rent a bike and ride along the lake. You will pass by 伊达邵 and 水社壩. Remember to stop by to take photos, especially during sunrise and sunset
Image from http://www.sunmoonlake.gov.tw
After this, you will rest in your hotel in Sun Moon Lake so that you can be recharged for the Day 4!
To be continued…
Like our Facebook page so that you will not miss out our Amazing Taiwan Itinerary 7 Days 6 Nights (Part 4).
IMPORTANT NOTE:
Every itinerary should be unique. Therefore, your Taiwan itinerary should also be customized according to your needs. Most importantly, it MUST BE FLEXIBLE. If you do not like a place after visiting it, you can still skip and change your itinerary along the way.
This is how we plan your itinerary. So, chat with us when you are planning your itinerary. Anyway, it's FREE, so why wait?
Contact us @ darius@happyholidayplanner.com or here NOW!!!
Too many different accommodation to book? No worries, we can help you book your accommodation too! No extra charges and sometimes it can be cheaper than Agoda or Booking.com.